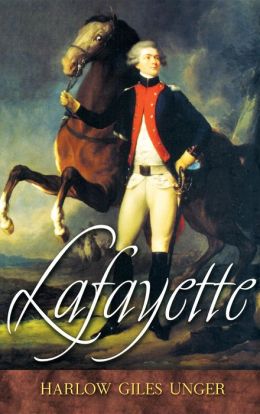 Even though he is technically a French citizen, I decided to include Marquis de Lafayette in my U.S. History class due to his involvement in the American Revolution and his attachment to George Washington. The first half of Lafayette by Harlow Giles Unger is about the Marquis's involvement in the American Revolution; the second half is about the French Revolution. Both fascinating.
Know before you read
This is not a super-thorough biography of Lafayette's whole life – his first 19 years are all condensed into about 30 pages. That said, I imagine most readers are really mostly interested in Lafayette's involvement with the American Revolution and French Revolution specifically, so this seems like a smart choice on Unger's part.
The Marquis de Lafayette
I had no idea the extend of the Marquis de Lafayette's involvement in the American Revolution. The fact that he spent (the equivalent of today's) $1.6 million+ of his own money. His brave leadership in battle. His diplomatic prowess on behalf of the United States.
"Of all the Founding Fathers – the heroes and leaders of the Revolutionary War – only Lafayette commanded the unanimous acclaim and veneration of Americans. For only he came with no links to any state or region; only he belonged to the entire nation; and only he, among all who pledged their lives, fortunes and sacred honor, sought no economic or political gain. He asked no recompense but the right to serve America and liberty, and, when Americans lost him, they knew that they and the world would never see his kind again – a hero among heroes" (xvii).
The reader Lafayette of will be hard-pressed to find any real criticism of the subject. I'm not sure that's necessarily a bad thing – you can still learn a lot from this book. So many of the other books I have read gloss over the contribution that Lafayette made which (according to this book) was substantial. Both militarily and diplomatically (and financially). Instead, most historians tend to focus on his personal relationship with Washington.
Furthermore, the second half of this book details his involvement in the French Revolution (of which I knew little to nothing about). And THIS is why I love history. I have a hard time imagining the life Lafayette led – born into wealthy nobility and yet completely dedicated to two revolutions on completely different continents. He seems to have been a singular kind of leader – easy to love and easy to follow. (At least for those that were not jealous of his power).
While the subject of this book is a tad obscure in the overall U.S. pantheon, if you are specializing in American History, Lafayette by Harlow Giles Unger is a great option.