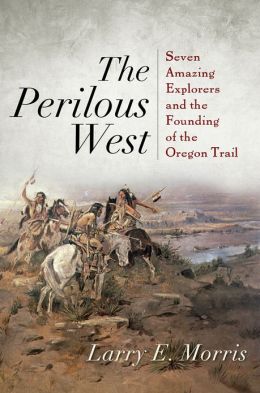 I grew up in California, hearing all kinds of gold rush and wild west stories. We went to the San Fernando Mission for a field trip and I've been to Donner Pass on a family vacation. I love the west and its history. The Perilous West: Seven Amazing Explorers and the Founding of the Oregon Trail by Larry E. Morris makes all of it so boring.
Know before you read
This book is SHORT. Only 159 pages without all the appendices and resources in the back.
Unfortunately it is also SLOW. It took me a really long time to read because my attention kept wandering in the middle of sentences, paragraphs, chapters. Over and over. I would guess that around HALF of the book is direct quotes from not just diaries, letters and other primary documents, but ALSO from other historians (Stephen Ambrose and Washington Irving). I appreciate that Morris is using quotes to give his work authority, but SO many of them really slow the book down to a crawl. Quoted phrases like "several of these noblest of game" or "good interpreter" don't add anything to the content and take away from flow of the narrative.
And it is very poorly edited – the subhead is absolutely misleading and the structure of the book in no way indicates who those "seven amazing explorers" are. The only reason I know which of the many many many names are thrown about I should really care about is because of the blurb on the dust jacket that lists the "seven amazing explorers". In fact, the first 60 pages or so are heavy with Manuel Lisa history, and the final chunk of the book features Wilson Price Hunt heavily, neither of whom is apparently one of the seven.
Further irritating, Morris alternates between extensive quoting of all kinds of details and saying if such and such happened "those details were not recorded."
Where is Morris's editor who let him put this out?
The Perilous West and the Oregon Trail
I don't have a ton to add here. I love stories of the West and the rough territories. The deception and courage and drama and barely surviving. But you don't really get much of that from this book. Nor does this focus on "seven amazing explorers." Rather it feels like a collection of diary and letter quotes strung together in roughly chronological order. The fact that Morris has to include a chronology AND a 'biographical directory' in the back of the book does not speak well to his writing.
Read something else. Undaunted Courage or even A Life Wild and Perilous. Now I need to find a better Oregon Trail book.
So, basically. You can skip The Perilous West: Seven Amazing Explorers and the Founding of the Oregon Trail by Larry E. Morris. It's one of those books that I read so you don't have to.
On a positive note: I feel like if this book can get published then I can write a publishable book.