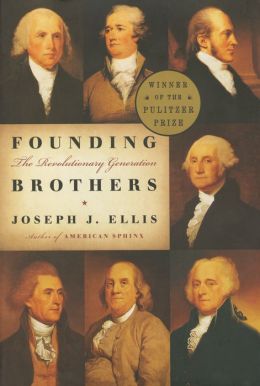 I love Costco. Every time I go I wander down the book table, checking out what new releases I can get for half off. Once, years ago, I spotted this small paperback history book. Honestly, I was amazed that history was published in small, readable volumes (not the massive tomes I always expected). Plus it had apparently won a Pulitzer? I was intrigued. I bought Founding Brothers: The Revolutionary Generation by Joseph J Ellis about the founding generation of the United States for my father for his birthday, and if you've read my short bio you know it was all downhill from there.
Know before you read
This is history for lay people. Easy to read. Easy to understand. None of the intricate political deals you might find in more detailed biographies. As with most Joseph J Ellis books, Founding Brothers makes these men of the American Revolution approachable and (in my case at least) whets the appetite for more.
I did find some reviews that complained about complicated language, but I did not find that at all. Especially compared to some of the other histories I've read, this is eminently accessible.
Founding Generation
Yes they were all (moderately to very) wealthy. Yes, they were all white men who had leisure to study ancient forms of government and basically volunteer their time to the American Revolution. But what really made these men special? How did they go from a bunch of farmers, lawyers and business men to completely changing the world with the creation of a new country?
In this book, Ellis looks at the ideas, men and the relationships between them that led to the founding of the United States. It was not just accepted that the colonies would declare independence. The federal government was a far from done deal. Each of these men had their own ideas of how the colonial governments could evolve into something great, and did their part to help create this country.
From the official book blurb:
Ellis focuses on six crucial moments in the life of the new nation, including a secret dinner at which the seat of the nation's capital was determined–in exchange for support of Hamilton's financial plan; Washington's precedent-setting Farewell Address; and the Hamilton and Burr duel.
Ellis is a great storyteller – I personally love Revolutionary Summer – and each chapter in this book tells a different story of those influential moments and decisions that helped shaped the United States. Like most of Ellis's books, Founding Brothers: The Revolutionary Generation is a great *starting* place. After reading it you will want to go seek out more detailed biographies and histories of these men.